Service Industry SEO
Service Industry SEO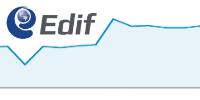 30% more organic traffic from SEO troubleshooting services that hugely increased Edif's rankings.
""Martin's knowledge and input has been invaluable in identifying and reducing a huge number of tech SEO errors with one of our clients, which has turbo-boosted their traffic. Clarity is very hard to come by in the SEO world and Martin consistently shines in his ability to explain how and why to do things. I highly recommend his services."
Clare Taylor – Avatar Creative Marketing Manager.