SEO for Recruitment Agencies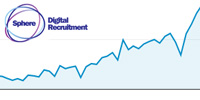 Ongoing growth from increased search traffic from optimisation after a Technical SEO Audit.
See how we optimised a leading digital recruiters website to improve on-page optimisation and provide and in-house SEO plan after a full technical SEO audit and fix, and see what the company owners said about our great results:
" "Martin's SEO project was an excellent and inexpensive solution for us. We have already seen a 50% increase in organic traffic (in less than 3 months) and we are able to manage the performance ourselves and we are seeing ongoing improvements. Martin is very passionate about what he does and always went the extra mile for us. We would highly recommend." "
Niall Phelan – Founder of Sphere Digital.